Some of the books that caught my eye in April...
The Many Selves of Katherine North by Emma Geen
When we first meet Kit, she's a fox.
Nineteen-year-old Kit works for the research department of Shen Corporation as a phenomenaut. She's been "jumping"--projecting her consciousness, through a neurological interface - into the bodies of lab-grown animals made for the purpose of research for seven years, which is longer than anyone else at ShenCorp, and longer than any of the scientists thought possible. She experiences a multitude of other lives - fighting and fleeing as predator and prey, as mammal, bird, and reptile - in the hope that her work will help humans better understand the other species living alongside them.

Her closest friend is Buckley, her Neuro - the computer engineer who guides a phenomenaut through consciousness projection. His is the voice, therefore, that's always in Kit's head and is the thread of continuity that connects her to the human world when she's an animal. But when ShenCorp's mission takes a more commercial--and ominous--turn, Kit is no longer sure of her safety. Propelling the reader into the bodies of the other creatures that share our world, The Many Selves of Katherine North takes place in the near future but shows us a dazzling world far, far from the realm of our experience.
I first decided to check this out after seeing someone post a picture of the cover on Twitter. I love foxes! But I was even more intrigued after reading the description. I think it sounds like a fascinating concept and I think I will also really enjoy the sci-fi aspects to it. Due for release on 2nd June so I will definitely be going to pick up a copy!
Smoke by Dan Vyleta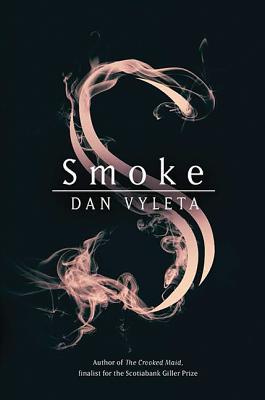 "The laws of Smoke are complex. Not every lie will trigger it. A fleeting thought of evil may pass unseen; a fib, an excuse, a piece of flattery. Next thing you know its smell is in your nose. There is no more hateful smell in the world than the smell of Smoke."


England. A century ago, give or take a few years.
An England where people who are wicked in thought or deed are marked by the Smoke that pours forth from their bodies, a sign of their fallen state. The aristocracy do not smoke, proof of their virtue and right to rule, while the lower classes are drenched in sin and soot. An England utterly strange and utterly real.

I've seen a LOT of discussion about this book around in the book blogging and Booktube communities. From what I understand, it's set in a school where young people are taught how to control their smoke. It's been compared to both Harry Potter and His Dark Materials with a lot of people saying that it fills the gap left by them both. That's a very bold claim, so I'm both excited and a little nervous to read it. Our copy is actually already on pre-order so I'm looking forward to getting stuck in when it arrives!
All That Is Solid Melts Into Air by Darragh McKeon
Coloured sheets of paper fall from the sky. This is their first indication that something serious has happened. Each sheet bears a message: you have three hours to evacuate, bring only one suitcase. From their balconies they can see a dark column of smoke rising above the nuclear plant. For the people of Pripyat, these are the last moments they will spend in their homes. For a child piano prodigy, a dissident factory worker, a broken-hearted surgeon and unknowing others, this disaster will change their lives forever.
This promises to be a big, sweeping, human story which I always love. The focal point of the story is set against the Chernobyl disaster which I'm aware of but don't know too much about, so I think it will be an emotional and interesting read.
The Book of Strange New Things by Michael Faber
It begins with Peter, a devoted man of faith, as he is called to the mission of a lifetime, one that takes him galaxies away from his wife, Bea. Peter becomes immersed in the mysteries of an astonishing new environment, overseen by an enigmatic corporation known only as USIC. His work introduces him to a seemingly friendly native population struggling with a dangerous illness and hungry for Peter's teachings—his Bible is their "book of strange new things." But Peter is rattled when Bea's letters from home become increasingly desperate: typhoons and earthquakes are devastating whole countries, and governments are crumbling. Bea's faith, once the guiding light of their lives, begins to falter.
One that I'm definitely intrigued by, but unsure if I'll get around to it. It definitely sounds interesting and I guess I'm especially into the space travel and sci-fi elements. I've read some reviews and they seem to be quite mixed, but many people seem to have found this book very thought provoking with some interesting observations about human nature and faith in particular.
What books have caught your eye this month?